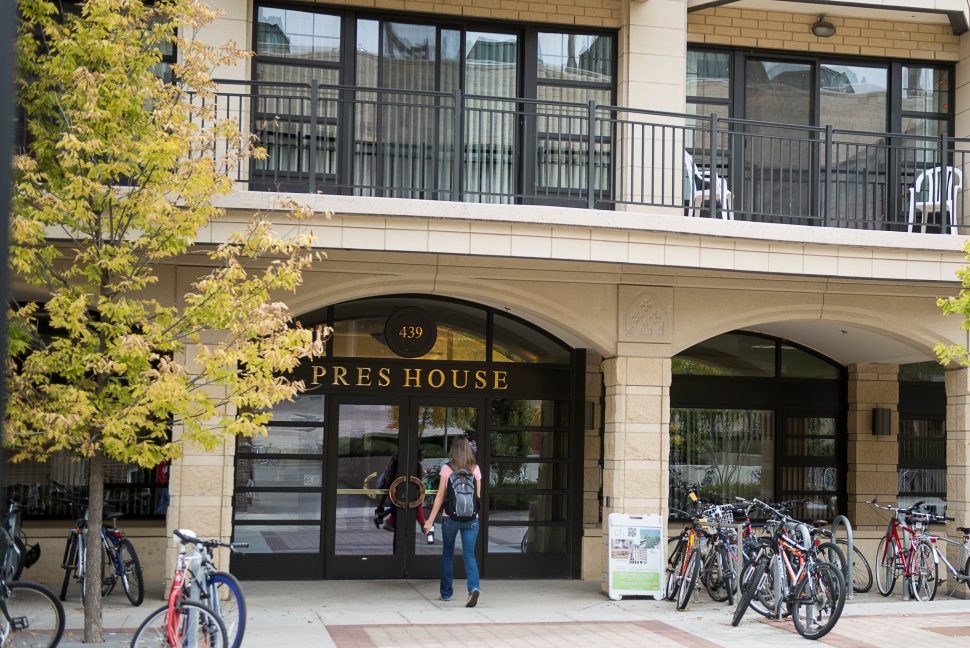 Skip the stress of move out — renew your lease at Pres House Apartments!
Pres House residents, we are so happy you decided to live with us. We're honored to be your home away from home, and we can't wait to see all of the wonderful ways you each enhance our community!
We want to share some important information about the upcoming leasing season with you. Whether you want to secure your spot at a specific place for next year or just lock-in your housing decision early to avoid doing it during midterms, finals, and other busy extracurriculars, this information will help.
When does leasing start?
In downtown Madison, leasing can be a bit different from other cities. The season starts earlier in the fall, and residents — especially college students — often sign their leases before the end of the first school semester.
In early October, we begin leasing apartments for the upcoming school year. We've filled up at record speed during the past few leasing seasons, and we expect units to go quickly again.
All this said, we promise we're not trying to rush you!
What are the costs of moving?
When you consider the expenses of storage, transportation, a new security deposit, and other details, moving to a new place can wrack up a monetary bill of more than $1,000.
There are intangible costs you have to deal with, too.
Most downtown leases have a few days between when you have to move out and when you can move in, leaving you without a place to stay and keep your belongings in the interim. Plus, the manual labor required to get everything from point A to point B can be stressful, to say the least.
The solution? Stay with us another year!
We'd love for you to skip the stress that comes with moving to a new place and stay with us again next year. We pride ourselves on creating a community that feels like home — in fact, our renewal rate is more than double the downtown average.
Here's how to secure your spot at Pres House Apartments for the next school year:
Let us know you're interested in renewing your lease as soon as possible.
If we don't hear from you, your apartment could be leased to someone else any time after the leasing season starts in early October.Please let us know you're interested even if you're not sure yet — this way we can make sure we lease up other open units first to give you more time to decide.We'll do everything we can to make the renewal process as easy as possible for you!
Make your final decision and keep us updated.
If you decide to renew your lease, we'll get started on the paperwork and make it official right away! You'll already understand the lease terms and expectations, so the process should be quick and painless.If you decide to move on somewhere else, that's okay, too. We'll find someone else to call your apartment home for the following year.
Reach out if you have any questions.
We're here to help! We know leasing can be stressful, especially when it comes just as midterms and extracurriculars are revving up. You don't have to do this alone.
Why are we telling you all of this?
We pride ourselves on being open and honest with our residents, which is why we wanted to provide you with the most accurate leasing information. We don't want you to have to deal with any surprises with your housing decisions, whether you stay at Pres House or not.
Our staff is ready to talk through anything you want. Don't hesitate to get in touch with Li Ann, Ginger, or Becca about any questions or concerns you might have.