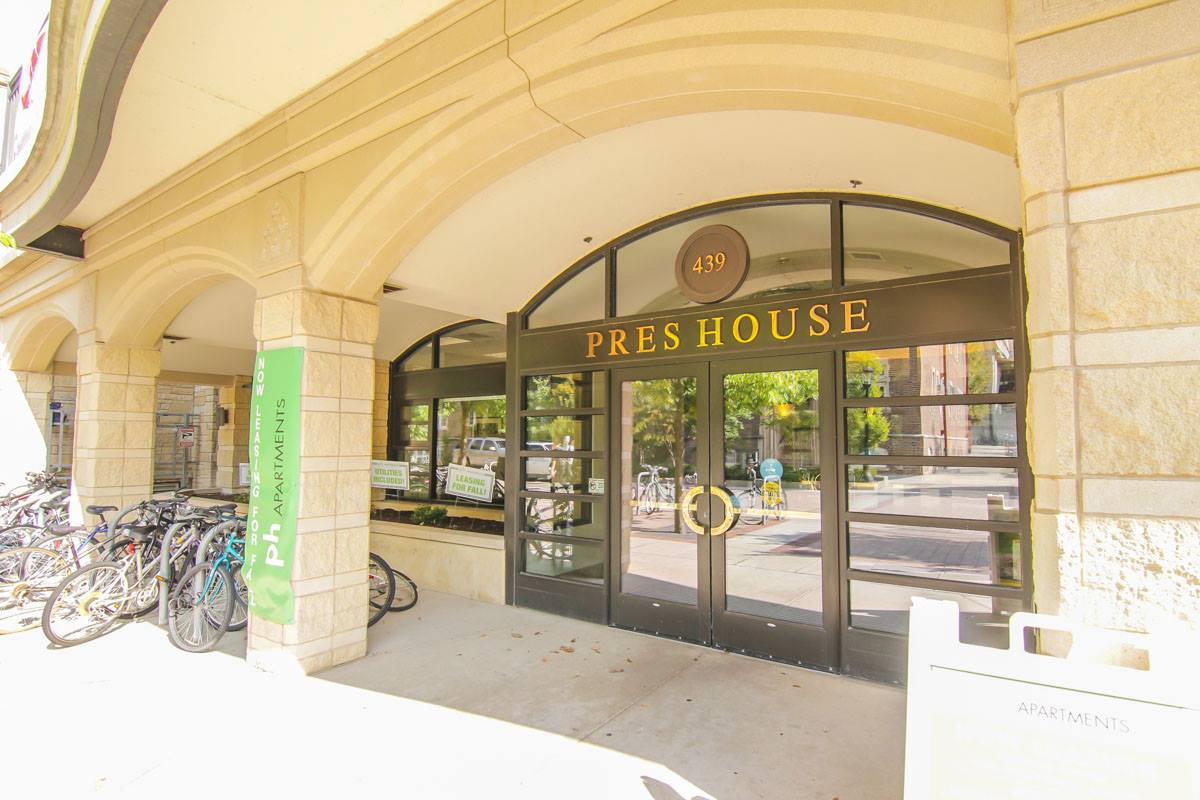 Why Individual Leasing: by Pres House Apartments Resident Marissa Ripp
Pres House was my first home away from home. When I first toured Pres House, I loved the building and all the amazing things that I would have access to. Pres House had opportunities that you will not find with other apartments. To start off, the location can't get any better! Their building is centered between Humanities, Memorial Library, and the Chazen Art Museum. Little did I know that this meant my morning commute to class was only a 5-minute walk.
Not only did I love the location, but I loved that everything was included in your rent. Yes, cable, Wi-Fi, trash, recycling, heat, air, water, and electric are all included! Off-site underground parking is also available for an additional low cost. Along with utilities included you get weekly tea time where you can connect with your neighbors, take a study break, or just pop in for a free snack. We also have monthly meals which are free to all residents.
As if it couldn't get any better, Pres House Apartments offers scholarships to help cover the cost of rent. The scholarships not only help cut the cost of rent but also help you meet new people and push yourself out of your comfort zone. For example, last semester I participated in a cooking class with other residents and church members in order to get points towards my scholarship for the month. I also was able to go on the BWAP (break with a purpose) trip to Texas over break. Pres House not only helped me to help others over break but helped cut the cost toward the trip to go help with immigration and remodeling homes.
Although I was super excited to sign with Pres House, I quickly became worried when I came to the realization I would have to live with 3-4 other people that I don't know. My biggest fear was signing a lease and being stuck with roommates I didn't get along with or had nothing in common with. I tried to distract myself from it by reminding myself that the room I would be signing for is fully furnished with still tons of room to relax, study, and hang with friends. I also reminded myself that I would only have to share a bathroom with one other person because each apartment comes with 2 bathrooms. Then it came to the kitchen and living room and I got nervous about how this would all work with so many of us. Would my things get used by others? What if they aren't as clean as me? What if we don't like the same things? What if…. yes, I scared myself with every "what if?" question possible.
However, when I went in to sign my lease I spoke with LiAnn, the property manager.  She helped alleviate my stress by explaining how she does the roommate match. Everyone who was signing in the apartment had to fill out the form about their interests, dislikes, sleep patterns, views on drinking and smoking etc. She then looked over them to make sure we were a good fit all before I was able to sign my lease. Pres House sets you and your roommates up for as much success as they can.
After my nerves were eased up a bit I became excited to meet my new roommates and get to know them more. I was excited to push myself out of my comfort zone of living with my family and move out on my own. I wanted to learn from each other and learn some of the learning curves we would all encounter moving in with other roommates that we didn't know. After living with my roommates for a semester I look back and see some roller coasters we encountered and how we were able to work together and get past them by seeing things through each other's eyes not just our own. It hasn't been perfect, but we were able to meet each other in the middle by simply talking things out about cleaning, cooking, chores, having friends over, quiet time, and so much more. The nights of sitting playing cards/ games in the living room, watching Hallmark movies, cooking, baking, and studying together are endless and something I will never forget. Not only do I have roommates, but now I have new friends!
When it comes to individual leases many misconceptions arise. Many think if your roommate doesn't pay their rent you are responsible for it. Don't worry that's the perk of an individual lease! No matter if they are behind on rent or not paying at all you will never be responsible for their rent. Another misconception is everyone can get into your room. Not here at Pres House! Pres House provides for security from the moment you get to the front door. You have to use a key fob to get in, a key to get into your apartment, and another key which is individual to each bedroom within the apartment. I could be here all day and list misconceptions, but I won't bore you.
If you are thinking about pursuing an individual lease don't think, just do it! For real, Pres house is an amazing place to be. I loved it so much I signed another individual lease next year. If you have questions or concerns sit down and talk with a current resident, Ginger, or LiAnn and they will help you. Pres House is not a place that will push you to sign as they want you to be happy and make sure it is a good fit. Pres House is not just a home, but a big family.
— Marissa Ripp, Junior Transfer Student studying Psychology at UW Madison