Contact Us
Are you a current or prospective resident with questions for Pres House Apartment staff? Would you like to request a tour?
Fill out the form below and we'll get back to you shortly.
PH Apartments
439 East Campus Mall
Madison, WI 53703
Phone: (608) 819-4663
Fax: (608) 646-7630
Office Hours
Monday – Friday, 8am – 5pm
Terry Bauer
Property Manager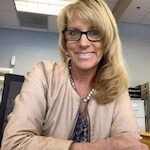 Terry joined Forward Management, the property management company that manages Pres House Apartments, in late 2019. She has worked in property management for many years and specializes in student housing. Terry wants to offer her residents a comfortable place to call home and an overall positive experience living at her properties. She has a knack for building excellent relationships with her residents and always has an open-door policy! Email Terry (
terryb@rentfmi.com
) or visit her in her office on the Pres House Apartments main floor (Mon-Fri, 8am-5pm)
Ginger Morgan
Director of Candid & Community Initiatives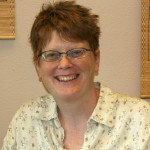 Ginger joined the Pres House staff in July of 2012 as the apartments' first Director of Residential Community. As Director of Candid & Community Initiatives, Ginger leads Candid, the Pres House student wellness initiative.  She also works to build partnerships and funding that support the scholarships and programs at Pres House Apartments.  She focuses on how to promote wellness in the context of community and to envision how Pres House Apartments can best serve residents through an environment of welcome, growth, and connection.  She facilitates the Future Focus and Next Step programs, and works alongside the Coordinator of Residential Programs to support Pres House Apartment community.
Over the course of her career, Ginger has served as a chaplain and a college administrator, focusing much of her work on mental health, spiritual care and college student development. Ginger holds a PhD in Religious Studies from Denver University & Iliff School of Theology.  In addition to enjoying her work with college students, Ginger likes to read biographies, fantasy and mystery fiction, to play disc golf and board games, garden, and has been known to cook for up to 100 people! Ginger attends the Madison Friends (Quaker) Meeting, her kids' swim meets, and many many music performances.
Ginger is available to any resident living at Pres House Apartments. Email Ginger to set up a time to talk (ginger@preshouse.org) or visit her in her 6th floor office.
Rebecca Bedell
Coordinator of Residential Programs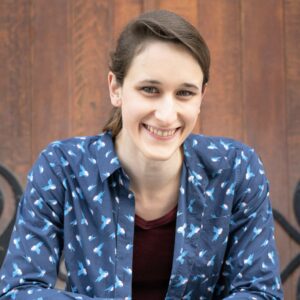 Becca came to Pres House staff in 2019 as an alumna of UW-Madison's MFA program in poetry, and a volunteer in the Pres House church community.  She grew up in Florida, attended Princeton University, has worked in non-profit and education, and taught English to UW-Madison undergraduates during her MFA.  She is passionate about mentoring young adults as they navigate transitions and build an intentional life.  She values empathy, communication, and a healthy work-rest balance.  When not working her hobbies include music, vegetarian cooking, board games, and contemplative time in nature.  She has cooked for 25 people, but has yet to match Ginger's 100.
She is the first Coordinator of Residential Programs (CRP), overseeing the Pres House Apartments Scholars, CEO, Micro-Communities, and co-leading FACETS, as well as working to enrich and expand building-wide events.
Becca is happy to get to know residents through 1-on-1 meetings, afternoon tea, community dinners, or folks stopping in to say hi.  Her office, formerly the second floor lounge, is still open to all residents whenever she is in, usually 9 – 5 on weekdays.  You can reach her at rebecca@preshouse.org.
Note: during COVID-19, Ginger and Becca may have reduced on-site hours at Pres House Apartments.  If we are not in our offices, we are still reachable by email!  Thank you for understanding.