Contact Us
Are you a current or prospective resident with questions for Pres House Apartment staff? Would you like to request a tour? Fill out the below form and we'll get back to you shortly.
PH Apartments
439 East Campus Mall
Madison, WI 53703
Phone: (608) 819-4663 (HOME)
Fax: (608) 257-6639
Office Hours
Monday: 9am – 6pm
Tuesday: 9am – 6pm
Wednesday: 9am – 6pm
Thursday: 9am – 6pm
Friday: 9am – 6pm
Li Ann
Property Manager
Li Ann joined Forward Management, the property management company that manages Pres House Apartments, in February of 2017. She has worked in property management for 14 years and specializes in student housing.  Li Ann wants to offer her residents a comfortable place to call home and an overall positive experience living at her properties. She has a knack for building excellent relationships with her residents and always has an open-door policy!
Email Li Ann (liannf@rentfmi.com) or visit her in her office on the Pres House Apartments main floor (Mon-Fri, 9am-6pm)
Ginger Morgan
Director of Residential Community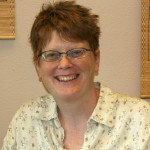 Ginger joined the Pres House staff in July of 2012 as the apartments' first Director of Residential Community. Over the course of her career, Ginger has served as a chaplain and as a college administrator, developing expertise in mental health, spiritual care and college student development. Ginger holds a PhD in Religious Studies from Denver University & Iliff School of Theology.  She often presents to graduating high school students and their parents on navigating the transition from high school to college.  In addition to her work with college students, Ginger enjoys good books, disc golf, gardening, playing board games with her children (and Pres House Apartment residents), and has been known to cook for up to 100 people! Ginger also attends the Madison Friends (Quaker) Meeting.
Ginger is available to any resident living at Pres House Apartments. She is happy to provide support and consultation, or to just shoot the breeze.
Email Ginger (ginger@preshouse.org) or visit her in her 6th floor office (Mon-Fri, 8am-5pm)