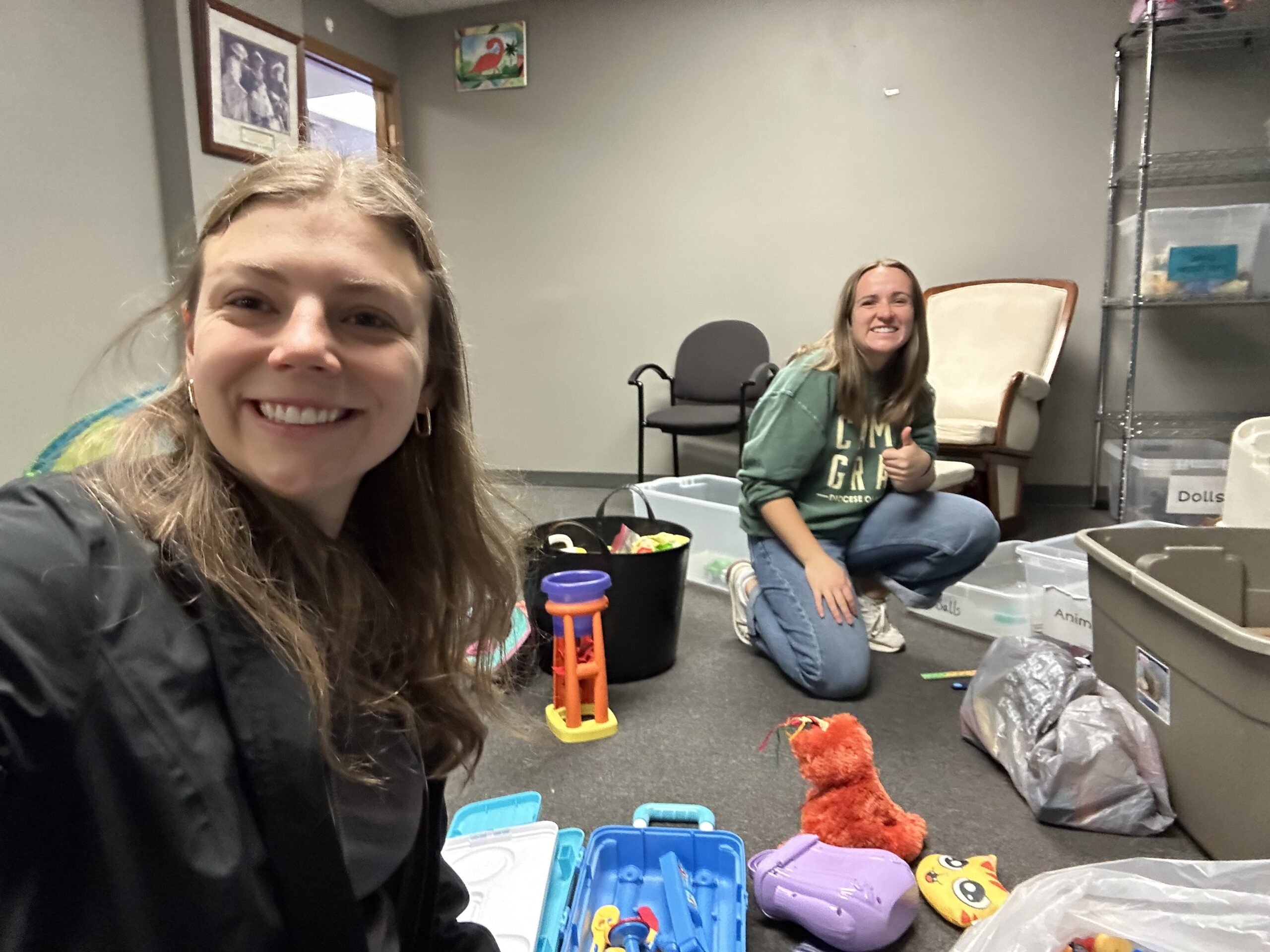 CEO Residents Volunteer at Babies and Beyond
Community Engagement Opportunities (CEO) is one of the many rent scholarship programs Pres House Apartments residents can apply to. 2023-24 CEO participants Claire Kramar and Ashley Hornung reflect on a highlight of pursuing their CEO service goal at Babies and Beyond together:
The CEO program has encouraged me to make time for activities I normally would not be able to include in my day-to-day life as a nursing student. Through the curation of my individual goals I have been pushed intellectually, socially, and creatively. Some highlights of the program have included meeting other participants at the kickoff meeting, spending time learning how to bake sourdough bread, and volunteering at a local Pregnancy and Baby resource non-profit with Claire (my roommate). All of these opportunities have also correlated to the CEO program through earning points. The process of creating goals, working towards them, and then sequentially receiving a scholarship rent
stipend is truly incredible. I feel very grateful to be a part of this program and the greater Pres
House community. – Ashley
The CEO program has allowed me to focus on areas of my life that, although I enjoy, I would otherwise deem not high on the priority list as a busy college student. Some of the highlights of my experience have been learning to play guitar, cooking for community dinners at my church, and volunteering at Babies and Beyond with my roommate, Ashley. Giving back to the community is something I've always thought of as important and necessary to nourish charity in your heart, but something I have not made nearly enough time to do during college. The CEO scholarship is pushing me towards greater virtue, compassion, and creativity and at the same time making living in Madison much more affordable. – Claire
The local non-profit pregnancy/baby resource center is called Babies and Beyond.
Babies and Beyond is located on Stoughton Rd in Madison, Wisconsin. This center provides
families with free cribs, formula, diapers, clothing [ages 0 to 4 yrs], toys, and books. They also
deliver New Baby care packages to families in the hospital, along with providing resources for
families on accessible housing, medical care, and education on child safety. We got involved
through signing up to volunteer on their website and then choosing a shift that worked in our
schedule!
We both loved going to Babies and Beyond where we were able to meet families and play
with children while their parents shopped. Our role was to take responsibility for watching their
kids for a little while so that they could decide what they needed for their family in a stress-free,
worry-free environment. It was a beautiful way to give back to those members of our community
in need, and something we both want to continue participating in throughout the school year.
Learn more about Pres House Apartments' scholarship opportunities here!